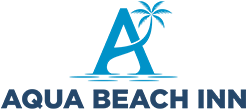 Aqua Beach Inn Myrtle Beach hotel near the 14th Ave Pier
PLEASE EXCUSE OUR MESS! In order to provide you with the best possible stay we are renovating our property. Renovations have begun in our lobby, and should continue through the month of March. Wait until you see our new look, you will be amazed! See you soon!

Have you ever wanted to stay at a hotel that you love and where you are loved back? The Aqua Beach in is the best value in Myrtle Beach--location, comfort, Southern hospitality, and fun all rolled together in an attractive hotel that won't break the bank!
Location
Fun is right outside your door at the Aqua Beach Inn! The Beach, Boardwalk, 14th Ave. Pier, SkyWheel, Rip Tydz, and Jimmy Buffett's Land Shark Restaurant are all only a block away. The SkyWheel's nightly light show can be enjoyed from your balcony. Ripley's Believe it Or Not is a less than 10 minute walk away. The hotel is also only a 5 minute drive from Broadway at the Beach or a 10 minute drive to Legends in Concert (and definitely worth a nice stroll to get there via the Boardwalk instead of driving!) The Aqua Beach Inn is also located 4 miles from the Myrtle Beach International Airport.

What else? The Hollywood Wax Museum is only a 10 minute drive. The Pinball Museum is a 5 minute drive or 30 minute walk. The Aquarium is a 10 minute drive. Do want to go shopping? The Market Common and the Tanger Outlets are both a 15 minute drive. In town for a convention? The Convention Center is a 5 minute drive or 20 minute walk.

Comfort
The rooms are spacious and all equipped with kitchenettes as well as balconies with ocean and Skywheel views from every room. The beds are comfortable, the showers are hot with good water pressure, and there is seating both on the balconies and in the room. If you don't feel like eating out every day or want to save some money by cooking, there is a kitchenette with a full size refrigerator. The rooms are always clean and stocked with plenty of towels, attractively decorated, have beautiful granite countertops, plenty of light and outlets, good Internet, a TV, and free local phone calls.

Southern Hospitality
Our guests love our staff. In fact, they love them so much, they will often stop by multiple times a day just to chat about how much they're enjoying their day! You're not just a transaction to us, we want you to feel happy, relaxed, and comfortable enough to tell us about your day and to come back because you miss your time with us!

Fun
It's hard not to have fun when the Boardwalk, beach, rides, restaurants, and bars are one block away; you can watch the Sky Wheel's nightly light show from your balcony; and you can shoot the breeze with our staff. Even if you are in town on business, we want to ensure you still have time for a little fun!
Stay with us and learn why our customers love us and come back over and over again!
Things To Do & Explore In Myrtle Beach